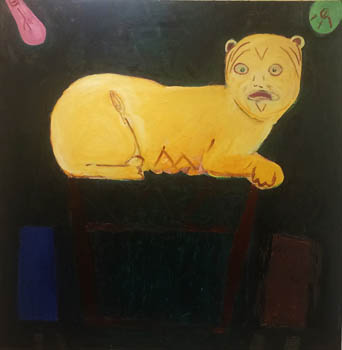 A Stone in the Mountain – Grant Foster & Georgia Hayes
Transition-2, 110a Lauriston Rd, London
Preview: Friday 30 November 2018, 6.30-8.30pm
Show continues: 1-23 December 2018
Opening hours: Friday-Sunday 12-6pm
'What is the stone in the mountain?' asks Grant Foster. 
'I think it could be a rock, a pebble, a lump of crumbly shit, or like every other one, or beautiful, unique or just odd', answers Georgia Hayes.
Grant Foster and Georgia Hayes are both figurative painters whose work eschews trickery, subverts straightforward representation and instead deals with directness, essence and instinct. Painting for both Foster and Hayes is a verb – to do.
The idea for the show was arrived at during conversations between the artists in Hayes' East Sussex studio, which continued in an exchange of emails:
'What happens when dumb?is actually highly sophisticated and deeply woven into the schematic complexities of Giotto, Sassetta and Piero della Francesca?' asks Foster. 'Where flatness is directness – and an active affirmation against trickery, where the bend of a leaf in an eternal garden, doubles up as a schematic on an ordnance survey map?'
'Flatness in paintings happens when passion and belief is absent,' counters Hayes. 'Form and depth can be captured in the paint without using mathematical mapping and perspectival and graphic illusion. It is what makes a painting powerful, alive, but it is elusive and hard to describe in words. This thing is embodied in the paint'

As for the stone in the mountain of the title, Hayes explains: 'A stone in the mountain was something Roy (Oxlade) once said to me when I was getting over the worry of trying to join so many accomplished artists and thinking what was the point of one more hoping to be something (my parents used to try to discourage me from painting by citing Picasso and saying that all that needs to be done, has been). In these days of celebrity and "me, me, me" it may be a novel thought to be one of the community of artists that make that mountain for everyone.'
Items for sale at Transition-2



We are pleased to be able to offer Dancing to Cajun, a limited edition print by Georgia Hayes, at the specially reduced price of £100 for the duration of A Stone in the Mountain.

We also have a limited number of Georgia Hayes' Sing Out Loud catalogues available.
Grant Foster contributed to the most recent (Difficult) Women editon of Garageland magazine where he wrote the 'Insight' article about the painting Youth Serum.
follow the links for more information and an opportunity to purchase the items online.